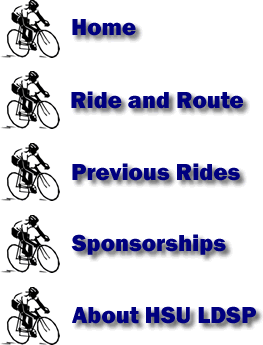 Sponsorships

One of the lessons that students learn from the BRAT experience is that successful, complex projects don't just happen. They require a lot of thought, planning, and work. Among the issues that have to be analyzed and decided upon are necessary resources. In the case of the Bike Ride Across Texas, bicycles, lodging, transportation and gasoline, food, promotional materials, equipment, spare parts, and other necessities need to identified and secured.

The support of a number of individual and corporate sponsors from the first three years have allowed us to secure a lot of the "big" things that we need for the ride. Most of our riders have their own bicycles, however we have also been able to secure three road bikes for current and future students. We've purchased two bicycle racks and a Garmin gps unit with funds raised on previous trips. Recent donations have supplied us with additional pedals, a speedometer unit, tire repair kits, and cycling jerseys for upcoming rides. Biketown in Abilene continues to help supply us with spare tubes and tires for our rides--their support has been exceedingly wonderful and generous.

We view the rides as grand adventures. As such, we have been very comfortable camping out in church gyms, fellowship halls, Sunday School rooms, and even a nursery. We have also been hosted by hotels, bed and breakfasts, cabins, and family homes. Our hosts have been been nothing but welcoming and gracious. We truly appreciate the support of all of our sponsors.
We are looking for individuals and organizations to help us with upcoming rides. From warm places to stay on the route to financial contributions, we depend on the assistance of others to make these trips into realities. Check back here for ways to make a tax-deductible donation to our upcoming BRAT adventure or send an email to pattersn@hsutx.edu to help provide additional assistance.


Bike Ride Across the States 2016 - Mexico to Canada
Sponsors and Supporters

Abilene, Texas

Houston/Katy, Texas

Abilene, Texas
Wood-Good-Elfvin Family
Grand Marais, Minnesota
Josh and Rachel Klapak
Enid, Oklahoma

York, Nebraska
Bondred Derr
Del Rio, Texas


Watertown, South Dakota
Tara Scott
Duncan, Oklahoma
Phyllis Fritz
Clay Center, Kansas
And many other friends and family members!
BRAT3 Sponsors and Supporters

Mr. Austen Stokes
Angleton, Texas
Proske-Krueger Families
Surfside Beach and Angleton, Texas
Jatzlau Family
Giddings, Texas
Dennis Family
Belton, Texas
Baldridge Family
Jayton, Texas
And many other friends and family members!
---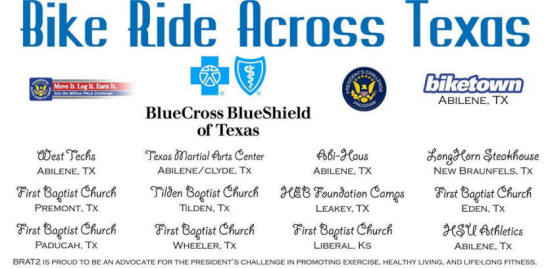 BRAT2 Sponsors
---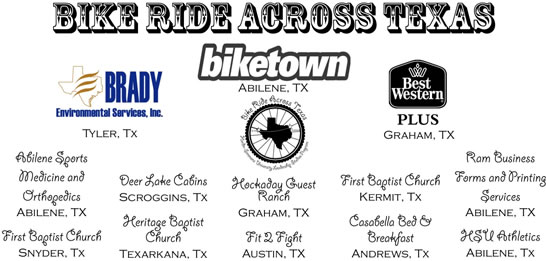 BRAT1 Sponsors
---