Click here to make a tax-deductible contribution through the HSU Advancement Office




Purpose and Mission of the Bike Ride Across Texas
In the summer of 2016, for the fourth straight year, students in the Leadership Studies Program at Hardin-Simmons University organized and completed a long-distance bicycle ride--this time, from Mexico to Canada!

The bike ride provided students with a real and very complex project to plan, organize, and execute. Responsible for all aspects of the project, students learn valuable skills through their interactions with the team and others during all phases of the ride. In particular, the participants on the Bike Ride Across Texas gain leadership, organization, and teamwork skills through the planning and execution of the project. From goal setting, critical thinking, planning, and problem solving to motivation, conflict resolution, awareness of individual differences, supportive communication, teamwork, and project management, the bike rides give Leadership Studies Program students opportunities to practice and develop leadership and organization skills in a real project.

We are in the process of formulating ideas for a fifth ride in 2017--one that will take us across Texas and several other states! Please spend a little time exploring our website and our videos, news stories, and pictures from our first four rides. We ask that you would also consider helping our riders with a tax-deductible contribution through our university. Thanks for your interest and for learning about us--now let's go hit the road.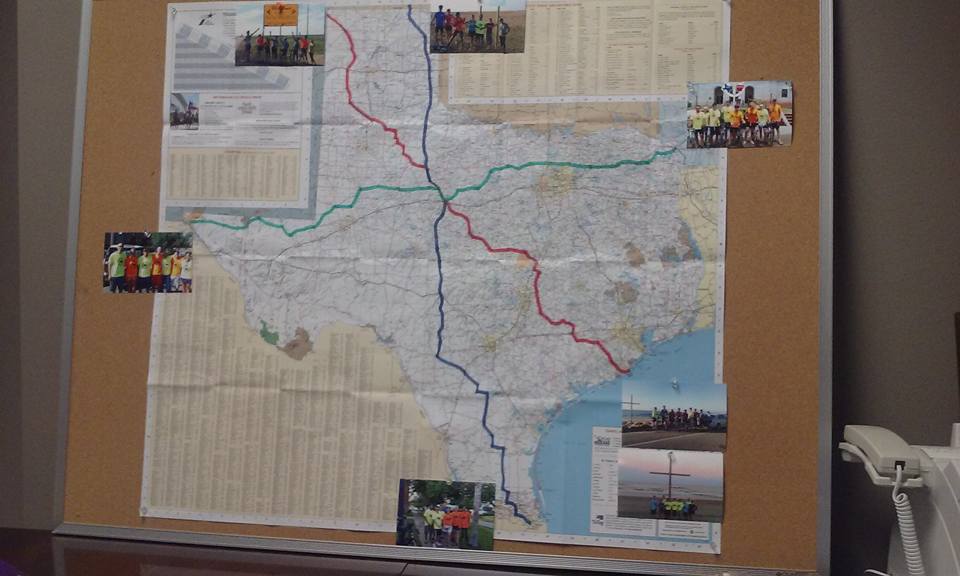 BRAT2013 (green), BRAT2014 (blue), BRAT2015 (red)